Million Dollar Paleo Christmas Truffles are a simple, yet decadent treat. These truffles will last for 1 week in the fridge and 3 weeks in the freezer.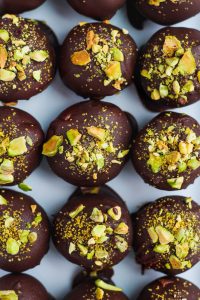 Ingredients
1 1/2 cup creamy almond butter
1/2 cup cocoa powder
1/2 cup coconut sugar
1 Tablespoon arrowroot powder
1/2 cup crushed pistachios
1 cup dark chocolate chips (dairy-free)
1 Tablespoon coconut oil

Instructions
Combine almond butter, cocoa powder, coconut sugar and arrowroot powder in a food processor.
Blend until fully combined.
Scoop one tablespoon of the mixture and roll into a ball in your hand.
Continue until you have used all of the almond butter mixture.
Place in the freezer for 10 minutes.
Meanwhile, melt the dark chocolate and coconut oil together.
Take balls out of freezer and re-roll in between hands to ensure a smooth surface.
Taking a fork, place the balls in the melted chocolate one at a time, rolling them around until fully coated.
Use a fork to place truffle on parchment or wax paper.
As soon as you place truffle on parchment, sprinkle with crushed pistachios.
Source: The Wooden Skillet