I came across a recipe for White Chocolate Orange Creamsicle Truffles recently on Pinterest. Their sales pitch was that they are perfectly fit for summer- a tasty no-bake dessert which simply melts in your mouth.
How could I not try making these with an introduction like that? 🙂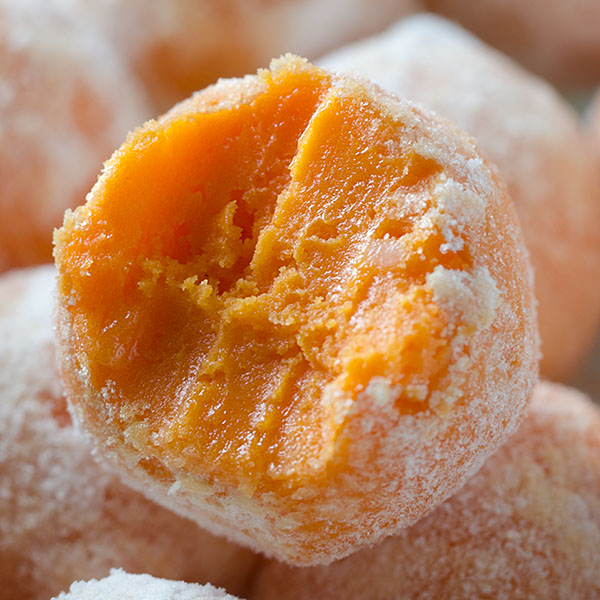 Ingredients
8 oz. white chocolate-chopped into small pieces
5 Tablespoon unsalted butter
3 Tablespoon heavy cream
pinch of salt
1 teaspoon orange extract
Orange(or red and yellow) food coloring-optional
⅓ cup powdered sugar
Instructions
In a small saucepan melt butter, add heavy cream and stir to combine, then stir in salt, orange extract, and food coloring and stir again to combine, set aside.
Over a double boiler melt chopped white chocolate, stirring casually until smooth and completely melted. DO NOT overheat the chocolate!!! It takes some time to melt completely, but do not heat above 105 degrees (If you touch it with your finger it will feel about the same temperature as your body), or the chocolate will separate and be unusable.
Gently stir in lukewarm butter and heavy cream mixture into melted chocolate. Butter and heavy cream mixture should be approximately the same temperature as melted chocolate before you combine them.
Cool slightly, cover with plastic wrap and refrigerate for 2-3 hours (or until firm enough to roll the balls). While it's cooling, you can take it from the fridge, stir with a fork, cover again with plastic wrap and place back into the fridge.
With a small spoon or a melon baller, scoop out the mixture and roll into 1 inch balls. You can dust your hands with powdered sugar or if it's too sticky drop a spoon of mixture into powder sugar — It makes it much easier to roll into a ball. Now roll it again in the sugar when the ball is formed.
Roll each ball into powdered sugar to coat them well.
Store in the fridge in an airtight container for up to 1 week or freeze for longer storage.
Alternative: Don't have orange extract? No problem. You can use orange zest and boil it with the cream, let it sit for an hour, then strain and follow the recipe.
Source: OMG Chocolate Desserts