If you are a fan of sweet snacks with a savory coffee flavor then Tiramisu Truffles are probably just what you are looking for.
Just looking at the picture of these Tiramisu Truffles, you would think complicated but they were actually quite easy.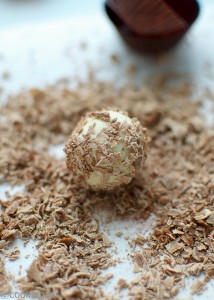 When rolling out the truffles make sure your truffle mixture is properly chilled, for at least 6 hours or more – maybe even overnight.
Also, your hands need to be cold in order to easily mix the truffles. The heat from just your hands can make the truffles stick and you'll have a hard time, as a result, trying to make them smooth as you want them.
INGREDIENTS
10 oz white chocolate morsels (couverture chocolate recommended, but regular will work)
½ cup mascarpone cheese (at room temperature, but not melted)
2 tbsp Marsala wine (sherry, vermouth or other sweet liquor would work)
1 tsp instant coffee ( I used Nescafe) divided
1 oz milk chocolate block
½ tsp Dutch-processed cocoa powder
paper cups, optional
INSTRUCTIONS
Melt white chocolate in a double boiler until smooth. Set aside to let it cool until just lukewarm.
Dissolve1/2 tsp of the instant espresso in Marsala wine.
After the chocolate has cooled, add in mascarpone cheese and using a rubber spatula mix until smooth. (there might be some tiny lumps, which is ok).
Add the espresso and marsala mixture and stir. Add in the remaining instant espresso. Cover and refrigerate overnight.
Grate the block of milk chocolate. Toss shavings in Dutch-processed cocoa powder.
Using a metal round measuring spoon or a small cookie scoop, scoop out balls from the tiramisu ganache and roll very quickly with your cold hands.
Roll truffles in chocolate shavings.
Consume immediately or refrigerate in an airtight container for up to 1 week.
Source: Cooking LSL