I've heard of many different types of truffles over the years but I can honestly say this combination surprised me. Who would have ever thought that caramel apple flavored truffles would be so delicious?
First, we start by gathering our ingredients. The one unusual thing this recipe calls for is something called Musselman's Apple Butter. I live in Houston, a major city so I was able to find it at several stores in my area, including my local Wal-Mart but someone who lives in a small town might not have such an easy time finding it.
If you aren't sure where to get it you might want to check out the find a store feature at the official Musselman's website.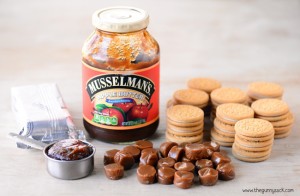 33 vanilla sandwich cookies
¼ cup Musselman's Apple Butter
4 oz cream cheese, softened
23 soft cream caramels
12 oz vanilla almond bark (6 squares or ½ of a 24 oz package)
Cooking Instructions
Finely crush 30 vanilla sandwich cookies, remove ¼ cup and set aside for garnish.
Mix in four ounces of softened cream cheese and ¼ cup of Musselman's Apple Butter until well combined.
Scoop about one tablespoon of the mixture, add caramel and roll the mixture around the caramel to form a ball.
Place the balls on a pan that is covered with waxed paper. Put the rolled truffles in the freezer for about 15 minutes (or in the fridge for 30 minutes) until firm.
Melt vanilla almond bark (or candy coating) in the microwave according to the directions on the package.
Dip the truffles in the vanilla almond bark. (If the almond bark in the bowl starts to harden, reheat it in the microwave at 10-second intervals.)
Set the dipped truffles on a silicone baking mat or a piece of parchment paper. Sprinkle with crushed vanilla sandwich cookies immediately after placing the truffles on the mat, before the almond bark hardens.
Store the truffles in the fridge, but remove them about 30 minutes before serving to allow the caramels in the center to soften.
Source: The Gunny Sack