If you are a fan of the Girl Scout Samoa cookies then you are going to love the truffle recipe I found for you today — Samoa Truffles! And yes, they really do taste just like the cookie, maybe even better.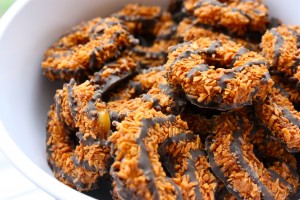 This Samoa Truffles recipe will make about 35 to 40 truffles.
2 cups sweetened shredded coconut
11 oz. store-bought soft caramels
2 tbsp milk
A dash of salt
10 oz. chocolate candy melts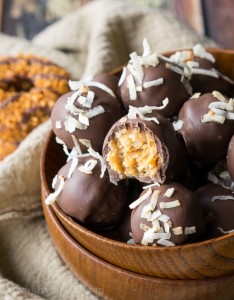 Place a large skillet over medium-high heat then add the coconut to the pan. Stir constantly for 5 to 7 minutes or until the coconut turns a golden brown color. Remove from pan and let cool.
Bring a small pot, filled with an inch or two of water to a boil. Place the caramels, milk, and salt in a metal or glass bowl and rest the bowl in top of the pot, so it's not touching the water. Stir until the caramels become smooth and melted. Stir in the toasted coconut (reserving ¼ cup for later) and mix to thoroughly combine. The mixture will be really thick.
Pour this out onto a wax paper-lined baking dish and spread into an even layer. Let cool for several minutes until it's cool enough to handle. Roll the caramel mixture into small, teaspoon size balls.
Melt half of the chocolate candy melts according to the package instructions. Dip each ball in the chocolate and tap off any excess chocolate. Lay on a wax paper-lined baking sheet to dry.
Once all the caramel balls are dipped, heat the remaining chocolate and dip the balls again. This time sprinkles the reserved coconut on top before the chocolate dries. Let dry and enjoy!
Source: I Wash You Dry