These Maple Walnut Truffles are a See's Candy Copycat! Just like the original, but made at home! These Maple Walnut Truffles have a whole lot of maple and walnut flavor, with the perfect amount of sweetness.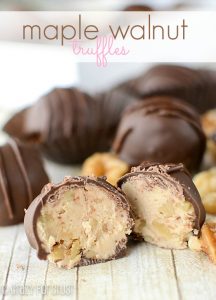 INGREDIENTS
1/4 cup butter 

— softened

1 tablespoon 

maple syrup

1 1/2 cups 

powdered sugar

1 teaspoon 

vanilla

1/4 teaspoon 

maple extract

1 cup 

chopped toasted walnuts

8 ounces 

chocolate candy melts
INSTRUCTIONS
Mix butter, maple syrup, and powdered sugar with a hand mixer. Add both extracts and beat until creamy. Stir in walnuts. Chill for 30 minutes.
Once chilled, scoop 1 tablespoon-sized ball of dough and place on a wax paper-lined cookie sheet. Chill again until just ready to dip (at least 10 minutes).
Melt your candy in a microwave-safe bowl according to package directions. Dip each truffle in the bowl of chocolate.
Do not roll it around, use a spoon to spoon chocolate over the top. Lift onto a fork carefully and tap to remove excess chocolate. Place on a wax-paper lined cookie sheet. I find it best to use a toothpick to help the truffle slide off the fork without disturbing too much of the coating.
Note: these truffles soften quickly. If you find them getting too soft, re-chill them and only remove a few at a time to dip.
Chill dipped truffles for just a few minutes until coating is semi-hard. Meanwhile, transfer the remaining chocolate to a squeeze bottle (or a plastic bag with the tip cut off) and pipe swirls or swipes of chocolate over the top for decoration.
Source: Crazy For Crust