Growing up my mother had a lemon tree in our backyard and as a result every year we had loads of lemons to make things with. But what I never thought about was making was Lemon Truffles. Now as an adult it's all I seem to make! 🙂
One day I come across this recipe on Pinterest for Easy Lemon Truffles and I knew I had to share it with all of you. Now I know we previously made white chocolate lemon truffles, but this one is different, I promise.
It really was simple and probably took me about 15 minutes to make. And you know what else is crazy? There are only 5 ingredients!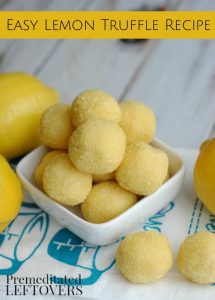 Easy Lemon Truffle Recipe
You can use fresh squeezed lemon juice or packaged lemon juice if you do not have any lemons on hand. If you have fresh lemon, then grate some of the rind and add some fresh lemon zest. You can use regular granulated sugar to coat the lemon truffles, or you can use yellow sugar sprinkles.
Ingredients:
1 box of lemon cake mix
7 tablespoons butter, melted (plus a few extra to butter hands)
1 tablespoon lemon juice
1 teaspoon lemon zest, optional
3/4 cup granulated sugar, divided (add 1/4 cup to the batter, use the remaining sugar for coating the truffles)
Directions:
1. Pour the cake mix into a large bowl and add in the melted butter, lemon juice, lemon zest, and 1/4 cup of sugar. Stir to combine the ingredients.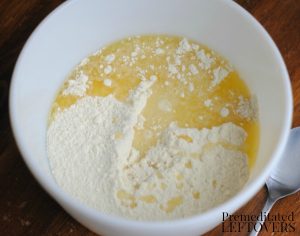 2. If the mixture is crumbly, add an extra tablespoon of melted butter at a time until the dough holds together.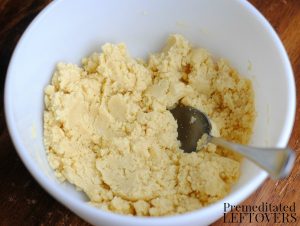 3. Pour the sugar sprinkles into a large bowl or platter. Roll the cookie dough into 2″ balls and then in the sprinkles as shown.  After the lemon truffles have been rolled in sprinkles, place in the refrigerator to set prior to serving.
A lot of people avoid making truffles because they always seem so complicated and messy. But as you can see with this recipe that isn't the case at all. So next time you have a party you can make them and be the life of the party.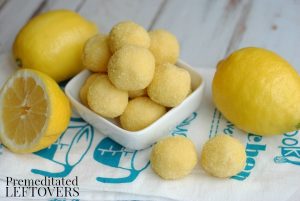 Source: Premeditated Leftovers